Make Your Own
Popping Plugs For
Freshwater Fishing
Create A Big Splash With
Surface Popper Plugs
It is easy to make popping plugs, using the same plug body as the wobbler plug . You simply turn the plug around and attach the hooks on the opposite side, as shown below.
---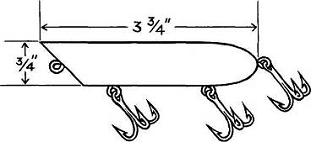 ---
Here you do not necessarily need a grooved head. A head cut at a 45° angle will provide plenty of splash and commotion when jerked.
This plug is also made with three treble hooks. However, if you are making a smaller version of this plug for use with spinning tackle, it can have only two trebles—one at the belly and the other at the tail.
The typical popping type of surface plug is shown below. This plug has a wide, cupped head and then tapers to a narrow tail. It should be about 2 3/4 in. long with the head section l 1/8 in. in diameter and tapering to a tail about 3/8 in. thick.
---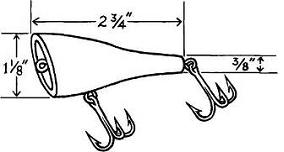 ---
This lure has one screw eye at the head in the center of the cupped head and two treble hooks, one at the belly and the other at the tail.
Because of its shape, this popping plug is most easily made when turned down on a lathe. However if you don't mind the work involved, whittle or file it down with hand tools.



---
---
| Back to Top of Popping Plugs |


---
Fishing Lures HOME :
Make-Your-Own-Fishing-Lures.com