Paint Your Own Freshwater Fishing Plugs
Give Your Plugs A
Professional Paint Job
If you plan to dip the plug bodies in enamel or lacquer or spray them with an airbrush, this should be done before they are assembled.
If you plan to paint them with a small brush, assemble the plugs first and paint them later.
If several wood bodies are to be painted at the same time, you'll find the quickest method is to dip them into a can of white lacquer or enamel.
Before you do this, screw in a small screw eye or hook into the tail for holding while dipping and hanging while drying. See illustrations below.
---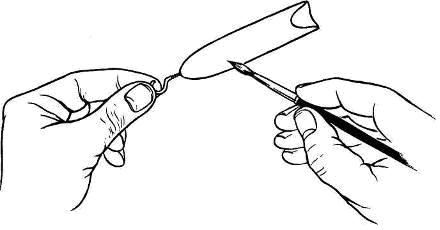 ---
For best results, the lacquer or enamel should be fairly thin and after the plug body is dipped once it should be allowed to dry, then dipped again, as many times as is necessary for a good, thick coat.
Usually this base coat will take three or four dippings. You can also spray on solid colors such as white or silver with an airbrush, or by using one of those pressurized paint cans which can be bought in almost any hardware store.
These are handy to use and the colors dry fast. If you paint the wood bodies by hand with a brush, you'll find enamel is best. It can be applied fairly thick and usually two coats of white will do the job.
After you have applied the white base coat and it is dry, you are ready to apply other colors.
A simple way to make a red-and-white plug is to use a strip of masking tape all around the plug about an inch from the nose. See illustrations below.
---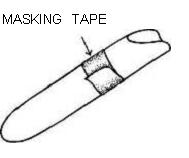 ---
Then spray or paint the head part with bright red. When it dries you can remove the masking tape and you'll have a clean, sharp dividing line between the red and white.
Another good color combination for freshwater plugs is a lure with a light blue or green back and silver sides. This looks like many of the minnows found in freshwater rivers and lakes.
To apply these colors, start with an all-white plug and brush on light blue or green enamel. When the color is still wet, brush on silver or aluminum paint along both sides of the plug.
Where the silver meets the light blue or green, blend colors until they are well mixed.
To make a natural fish scale finish on a wood plug, spray blue, green, or brown over the top or back and sides of the basic white-coated body. Leave the belly of the plug white. When this dries use a cloth netting tacked loosely on a wooden frame to apply the scale finish.
Hold the plug against this netting from the opposite side while you spray on the silver with an artist's airbrush.
To get the best results you need an artist's airbrush such as the Paasche type (see illustrations below). With the airbrush you'll need a tank of compressed air or a compressor motor.
---

---
The artist's type airbrush results in fine work and you get the best results with it when making scale finishes or other patterns. With such an airbrush, also, you can work out various color combinations on your plugs and give them a real professional look.
But if you have no airbrush, don't despair—with a little practice you can do a pretty good paint job with a brush.
After the plugs are painted you may wish to give them a more complete look by adding eyes, although eyes are not necessary to catch fish. Most store-bought plugs have glass eyes. These are similar to the eyes used by taxidermists and can be obtained from them.
They are mounted on wire which is clipped off with cutting pliers, leaving a short length of wire of about 5 in. long. Then drill holes in the plug, put in some quick-drying cement, and insert the glass eyes into the holes.
You can also paint the eyes with a small, pointed brush or dab them on with a flat head nail dipped in yellow paint. After the yellow dries use a smaller flat head nail dipped in black to apply the pupil of the eye. See illustrations below.
---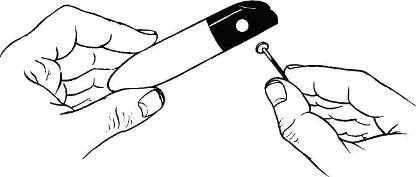 ---
---
---
| Back to Top of Paint Freshwater Plugs |


---
Fishing Lures HOME :
Make-Your-Own-Fishing-Lures.com