Hammers
Claw Hammer, Ball Peen Hammer And Mallet
About two or three hammers will suffice for making fishing lures. It is, afterall, a basic tool for any kind of work and making fishing lures is no exception.
---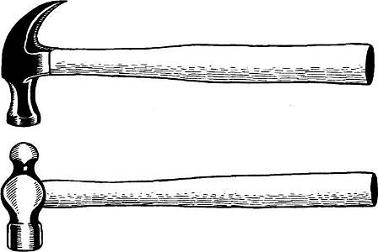 ---
If you already have a claw hammer (see illustration above), you can use it for many lure-making jobs. However, you should also get at least one ball peen or machinist's hammer which can be used for shaping metal, driving punches, cold chisels, and other uses.
A 12-ounce ball peen hammer is a good size for all-round work. Another type of hammer which is good to have is a soft-faced hammer. These are made of plastic or have rawhide, fiber or lead faces.
The soft-faced hammer is used for bending and shaping metal and leaves no tool marks. A wooden mallet (see illustration below) is also needed if you plan to shape your own metal fishing spoons or fishing spinners .
---

---
---
---
---
Fishing Lures HOME :
Make-Your-Own-Fishing-Lures.com
© 2004 Make-Your-Own-Fishing-Lures.com. All Rights Reserved.