Fish Casting Spinners
Casting For Fish With
Homemade Spinners
For easy fish casting, you can't beat the "French" type of spinner shown below. These usually have short wire shafts on which one or more heavy brass body weights are added. These body weights come in various shapes, sizes, and designs.
---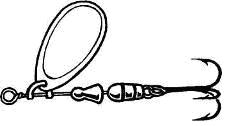 ---
French-type spinners also use a special heavier blade than the regular kinds. Both the body weights and blades can be ordered from many of the supply houses.
These casting spinners usually have a small treble hook attached. Other spinners use heavy brass beads for body weight, as shown below.
---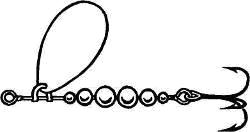 ---
These beads come in different sizes and are usually arranged as shown in the illustration. You can also use lead body weights which come in bullet, torpedo, or double taper shapes. See illustration below.
---

---
They have a center hole and come in different weights and sizes. You can order such lead weights either unpainted or painted.



---
---
| Back to Top of Fish Casting |


---
Fishing Lures HOME :
Make-Your-Own-Fishing-Lures.com
© 2004 Make-Your-Own-Fishing-Lures.com. All Rights Reserved.