Make Your Own
Darter Plugs For
Freshwater Fishing
The darter plug is 3 3/4 in. long with a head about 3/4 in. in diameter and tapers to a tail 3/8 in. thick.
The head slopes downward, starting about one inch from the end. Then a small notch is cut or filed at the nose of the plug.
This plug also has three treble hooks attached, two at the belly and one at the tail.
The screw eye for holding the fishing line is screwed in at the top of the head where it slopes.
---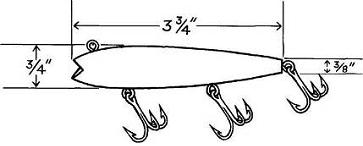 ---
---
---
| Back to Top of Darter Plugs |


---
Fishing Lures HOME :
Make-Your-Own-Fishing-Lures.com